Namestnikov, Vladislav
Submitted by pete on October 25, 2013 - 21:22
Two points the hard way.
SYR-2
UTI-1 (SO)
Cedrick Desjardins stopped 19 of 20 in regulation and OT and 5 of 6 in the shootout for the win. He'll backstop most, if not all, of Syracuse's games over the next couple of weeks as Helenius recovers from the dreaded upper body ailment.
First Period
UTI Stuart, (2) (Sauve, Dalpe), 4:39 (PP)
Second Period
SYR Kucherov, (6) (Taormina, Namestnikov), 6:43 (PP)
Third Period
NO SCORING
Overtime
NO SCORING
Shootout
SYR- Richard, Paquette
UTI- Ferriero
Cedric Paquette (Dump Truck!) and Desjardins were the game's first and second stars. Paquette scored the winning shootout goal to deliver the payload! They seriously need to play a truck horn when he scores. Nikita Kucherov continues to stake his claim as the most dangerous power play weapon in the AHL, aided and abetted by partner-in-crime Vladislav Namestnikov.
Syracuse outshot Utica 34-20, and really spent the whole game hurling chances against the wall that was Joacim Eriksson. Forunately, even despite that frustration, they at least made sure to get the two points in the shootout session.
Side note, wow, Utica. The AHL stuck you with the abbreviation UTI? At best that recalls Universal Technical Institute, which is the guys that break into your Judge Mathis in the afternoons (when you're too ill to go to work) to try to entice you to learn how to fix big rigs (not to be confused with the Cordon Bleu cooking college). At worst, that gets medical, as in Urinary Tract Infection. Now, I'm not one to tell you what to do as a franchise, but I might request the AHL to switch your abbreviation to UTC instead (University of Tennessee at Chattanooga having a less negative connotation). Annnnnd a rivalry is born. You're welcome.
Syracuse draws Bridgeport tomorrow night.
Box score from TheAHL.com.
Submitted by pete on October 19, 2013 - 20:48
Mid course correction successful.
SYR-4
BNG-1
Riku Helenius allowed 1 goal on 27 shots for the victory. I dare say he just defined himself as the #1 tonight.
First Period
SYR Sergeev, (2) (Richard, Mormina), 9:48 (PP)
Second Period
BNG Prince, (1) (Wideman, Petersson), 17:23 (PP)
Third Period
SYR Namestnikov, (3) (Kucherov, Taormina), 2:34
SYR Kucherov, (5) (Brown), 9:15
SYR Paquette, (2) (Taormina), 15:38
Nikita Kucherov and Vladislav Namestnikov were the game's first and second stars. I'd like to buy a vowel, Pat. Kucherov, as of this posting, leads all AHL rookies in scoring and is just 3 points off the pace for the overall league lead.
Syracuse washes out the taste of that bitter defeat last night at the hands of the Senators. This was a big win psychologically for the team. They're off until Friday when they'll play Utica. Utica is the new affiliate of the Vancouver Canucks.
Box score from TheAHL.com.
Submitted by pete on October 18, 2013 - 21:19
Wow, that's ugly.
BNG-6
SYR-2
Cedrick Desjardins allowed 6 goals on 20 shots for the loss. That's probably not the stat line you want the start after a Twitter kerfluffle that was, at a minimum, ill conceived.
First Period
BNG Hoffman, (1) (Wideman, Zibanejad), 7:05 (PP)
SYR Namestnikov, (2) (Kucherov, Taormina), 16:42 (PP)
Second Period
SYR Kucherov, (4) (Namestnikov, Brown), 8:18 (PP)
BNG Robinson, (1) (Puempel, Da Costa), 9:43
BNG Blood, (1) (Wideman, Dziurzynski), 10:43
BNG Hoffman, (2) , 15:28
Third Period
BNG Petersson, (2) (Wideman, Zibanejad), 4:43
BNG Puempel, (1) (Da Costa, Robinson), 14:11
Vladislav Namestnikov was the game's third star.
Two things have to happen early in this season while the youngsters adjust to their new roles. One, guys like Korobov absolutely have to be stabilizing influences. Guys with some experience need to be leaders and they can't be making mistakes that lead to scoring chances. It can't be the blind leading the dumb. That's a recipe for disaster. And, second, one of these two goaltenders needs to be the magic eraser when mistakes are made. 6 on 20 shots is bad, no matter how you slice it. As with what I've said about the Lightning's situation, the Crunch need either Desjardins or Helenius to be a reason they win games.
Lucky for Syracuse, they don't have to wait long to atone. They get Bingo in Bingo tomorrow night.
Box score from TheAHL.com.
Submitted by pete on September 29, 2013 - 19:00
Ten questions for this year's Lightning prospect season...
Submitted by pete on September 26, 2013 - 23:47
Dump truck!
SYR-5
STJ-2
Riku Helenius allowed 2 goals on 21 shots after spelling Cedrick Desjardins, who was flawless in the opening half of the game.
Syracuse got a pair of goals by Cedric Paquette (aka Dump Truck), and goals by Luke Witkowski, Tanner Richard, and Vladislav Namestnikov.
The teams will square off again Saturday night.
Game recap from Syracusecrunch.com.
Submitted by pete on June 29, 2013 - 13:39
Here we are about 24 hours away from a pivotal draft in Lightning history, and I just wanted to post a few of my thoughts heading into the event. It's been a strange, strange week with the release of captain Vincent Lecavalier and the gesticulations of Joe Sakic and Patrick Roy for top pick holder Colorado. So, it's forced people looking at what the Lightning will do with their 3rd overall pick to re-evaluate what impact current events will have on the selection. In the end, I'm guessing very little.
Taking Colorado at their word, the top pick in tomorrow's draft will be Halifax centerman Nathan MacKinnon, who probably has the best straight line speed and shot of any player in this draft. He's very similar to the Lightning's Steven Stamkos or current Avs forward Matt Duchene with the added element that he likes to engage physically, sometimes to his detriment because he does have a propensity to get his clock cleaned every once in a while. Still, he's a player with the potential to become one of the top-10 goal scorers in the NHL. If the Lightning were to get MacKinnon, which looks like a very low likelihood now, it would give them the option to put a Grade A sniper on each of their top-2 lines, making it virtually impossible for opposing coaches to effectively line match against them. The same would be true with how the Lightning would be able to approach assembling their power play units. The Lightning would become the ultimate conundrum to defend.
But, that's probably not happening. MacKinnon likely goes off the board at the top pick leaving the Florida Panthers to choose between, probably, the next 3 top prospects in this draft: defenseman Seth Jones of Portland, left win Jonathan Drouin of Halifax, and center Aleksander Barkov of Tappara in the Finnish SM-liiga. My guess is Florida, already having center Jonathan Huberdeau in the fold, may not be considering Barkov quite as closely. You might argue a similar, roster-based approach when considering they have Erik Gudbranson and Dimitri Kulikov in the fold. That might make them willing to pass on Seth Jones, who was the consensus top pick up until the Memorial Cup Finals, in favor of Jonathan Drouin. But, I still think Florida is probably 70/30 likely to take Jones for the simple fact that, if you look at how current Panthers GM Dale Tallon constructed the Chicago Blackhawks, he's a man who understands the need for depth on defense. When you consider the Hawks have won 2 Cups in 4 years with goaltenders who aren't the ilk of the Patrick Roys or Martin Brodeurs of the world, a lot of credit has to go to guys like Duncan Keith, Brent Seabrook, Niklas Hjalmarsson, Nick Leddy, and the veterans that have been put around them. But it's not a certainty, so lets consider the Lightning's options:
D Seth Jones, 6'4" 208 lbs, Portland (WHL)
Jones is the son of former NBA player Popeye Jones, and has a level of athleticism that makes it easy to project him as a 15-20 year NHL stalwart. He's got decent size, strength, and supreme mobility. He's also the coveted righty shot, which is something the Lightning organization needs. He does almost all the intangible things you want from a defenseman in terms of puck protection, decision making, and his first pass out of the zone ability. He's probably in the same class as current Lightning defenseman Victor Hedman in terms of how you should slot him as a potential, long-term #1/#2 defenseman in the league with the knock being, like Hedman, that Jones doesn't always engage in the physical game. He was the top prospect for this draft almost wire to wire until the Memorial Cup Finals when Halifax strafed the Winterhawks, and I think were he to drop to the Lightning they'd be hard pressed to pass on him. Championships are won from the blueline out, and the opportunity to add Jones to what little the team does have between Hedman and Radko Gudas is probably too good to pass up. Steve Yzerman would solidify the future of at least half of his blueline corps for the future and could shift his strategy on the blueline to finding players to bridge the next 1-3 years, possibly with a handful of grizzled veterans available at a cheaper price in the post-compliance buy-out era. With all that said, and as much sense as that all makes, Jones may not be the best player available when the Lightning pick at 3.
LW Jonathan Drouin, 5'11" 185 lbs, Halifax (QMJHL)
The best player in this draft may be Jonathan Drouin, who may not have all the measurables of a MacKinnon or Jones, but pop in a tape of his play and you'll begin to drool uncontrollably. There's a game we play every summer where scouts give their stock comparisons of player X to a current or former NHLer. So, if it's a really tall defenseman, here come the Chara or Myers comparisons. For a long time it was fashionable to compare power forwards to Cam Neely. Etc, etc. These are safe, accepted comparisons for scouts to make, and a few of those have been made in comparing Drouin to the likes of Patrick Kane or Claude Giroux. But, your ears should perk up when he is also compared to NHL legends like Gilbert Perrault and Denis Savard. Scouts don't like to walk the plank like that and utter the names of legendary, revered players unless a prospect truly has a special "it". Drouin may have that. He's a good, but not great straight line player, but what begins to set him apart is his lateral mobility. There hasn't been a player with nearly the amount of wiggle in Drouin's game to come out in a long, long time. He can stop on a dime and move 2-3 strides to the left or right in a blink and his puckhandling ability is world-class, often looking like he has the puck tied to his blade with a string. That's one way Jonathan Drouin can kill you. He's also got Brad Richards-like vision, hockey sense, and passing ability making him one of the best playmakers to come out in quite some time too. And, oh by the way, he's a heckuva goal scorer to boot. More than that, Drouin's known to be one of the fiercest competitors in the junior hockey world today. He hates to lose and although he's not the type to physically bludgeon you, he will risk life and limb in high traffic areas to make a play to win games (and much like Marty St. Louis, is smart and quick enough to get in and out with out having to actually sacrifice life and limb). With the exit of Lecavalier and the age of St. Louis, the added intangible of Drouin's compete-level may be a critical consideration in setting the culture for the next generation of the Tampa Bay Lightning.
C Aleksander Barkov, 6'3" 209 lbs, Tappara (FIN)
Here's the safest pick in the draft. Barkov's father was a Russian hockey player who settled in Finland where Barkov grew up and plays in the country's top league and is one of its leading scorers despite his young age. He's just a good, all around hockey player with good size, skill, hockey sense, and above average defensive abilities for a young forward. He's been compared, a lot, to Anaheim' Ryan Getzlaf and Minnesota's Mikko Koivu and he seems to be moving up late in the draft process, probably due to positive news teams are getting regarding the shoulder injury Barkov suffered late this season. For a team with a gaping hole at center with Lecavalier's departure, this might seem a little too good to be true. But, fans should recognize that it's unfair to expect a player like Barkov to fill someone like Lecavalier's shoes at 18 years old, and the Lightning should look at whether their needs at center will be this pronounced 3 years down the line once Barkov begins to truly come into his own. I would argue they won't be because I expect Vladislav Namestnikov to continue to develop along the same rapid decent we saw in the AHL playoffs. Along with Stamkos, Namestnikov could fill the Lightning's top two center spots in 3 years, making a center like Barkov less valuable to the team. All that may be a moot point anyway if rumors are true that the Nashville Predators are so enamored with Barkov they may swap picks with Florida to move up to the 2nd pick to get him. I'd be ok with that, because the choice between Jones and Drouin would be a #goodproblemtohave.
RW Valeri Nichushkin, 6'4" 196 lbs, Chelyabinsk (RUS)
Here's the wildest of wild cards: Traktor Chelyabinsk power forward Valeri Nichushkin. On his best days he looks every bit like Alexander Ovechkin or Evgeni Malkin, and he string together two weeks of his best days in an early 2013 tournament that darned near shot him up to #1 on many scouts' lists. Since then, though, he's failed to sustain quite that level of dominance. He had a good but not sparking KHL regular season and playoffs as Chelyabinsk eventually fell in the Gagarin Cup Finals, and he had a good but not sparkling U18 World Junior Championships where he showed flashes but eventually wound up third on Team Russia in scoring for the tournament. He's big, strong as an ox, handles and protects the puck well, and has a sharp, quick release. Hockey sense may be a question as he likes to often go it alone and carry the puck rather than give and receive a pass from his linemates. But, the allure is there and reportedly the Lightning do have a bit of an affinity for Nichushkin. He might be the perfect linemate to Namestnikov and Nikita Kucherov 3 years down the line, and I suspect he'd have been the pick if the Lightning were sitting at 4th or 5th. At 3rd, though, I'm not sure he is in any way, shape, or fashion the best player available and those peddling Malkin comparisons would be wise to look back and see what Malkin was doing at the same age: dominating U20 World Junior Championships, not finishing 3rd on Team Russia at the U18's. Compounding matters for Nichushkin is the Russian Factor, which may be a legitimate concern this time around given pre-draft contractual maneuvering between notorious agent Mark Gandler (see, Alexei Yashin, Evgeny Artyukhin, and just about every other Russian player who has enraged an NHL team with contract messes) and Moscow Dynamo, who acquired Nichushkin's rights for a boatload of rubles. Dynamo supposedly will allow Nichushkin to go to the NHL with no entanglements, but they won't allow him to go to the AHL, which is a league Nichushkin has said he has no interest in playing in. I smell a bit of a prima donna in that whole arrangement, which might be ok from a more finished product, but there are aspects to Valeri's game that need more development. That development would ideally take place in Syracuse alongside Namestnikov and Kucherov, giving the Lightning the opportunity to groom them together as a unit for 1 season before bringing them up to Tampa Bay. If that's not an option though, I'm less sold on the whole Nichushkin experiment.
Beyond the first round, the Lightning also hold the 3rd pick in the 2nd round, 33rd overall, which in a deep draft like this should yield an NHL player. A wide range of possibilities exist for the pick, but lets narrow them down with some assumptions. Lets play the odds and say Colorado takes MacKinnon and Florida takes Jones, leaving the Lightning to select either Drouin or Barkov (presuming Steve Yzerman elects not to give me nightmares by selecting Nichushkin). In the event the Lightning don't get Jones, they're almost compelled to take a defenseman at 33rd overall. Preferably, they'd get a righty shot, 2-way guy with some edge to play more of the physical style Jon Cooper is trying to install in his quest to make the Lightning harder to play against. So, let's consider what the options might be:
D Steve Santini, 6'2" 205 lbs, USNTDP (USHL)
If he somehow lasts to 33, I view Santini as the ideal fit for the Lightning's needs. He's got decent size, excellent poise and positioning, and he's nasty around his crease. He's a good passer and decent puck carrier, too, and protects the puck like the Secret Service protects the president. I'd be shocked if he slipped to 33, but a lot of mock drafts I see have Santini going in the 2nd round. If he's there, the Lightning may need to pounce.
D Tom Vannelli, 6'2" 170 lbs, Minnetonka (USHS)
U.S. high school star Tom Vannelli is extremelyy raw but has a ton of upside for a team looking for a righty shot, tempo-pushing defenseman. He's got excellent skating ability, loves to carry the puck, and is a solid passer and puck distributor. He's a bit of a greyhound though and needs to bulk up to compete as he begins to move up against higher levels of competition. He probably doesn't have the nasty streak Santini has, but he does look like a guy who can develop into a minutes-chomping two-way defender in the NHL.
D Shea Theodore, 6'2" 182 lbs, Seattle (WHL)
He's not a righty, but Shea Theodore is an offensive defenseman who may still catch the Lightning's eye. His game is very comparable to Vanneli's with the exception that Theodore's defensive positioning is probably more advanced at this stage. He does need to bulk up and he's not a bone cruncher, but he's one of the best power play quarterbacks in this draft and those are never bad to have around.
D Madison Bowey, 6'1" 201 lbs, Kelowna (WHL)
There's a wide disparity of opinion about where righty defenseman Madison Bowey will go in Sunday's draft, but there's not a wide disparity of opinion about his game. This is one of the best skating defensemen in this draft, but unlike Vannelli or Theodore he uses that ability more in the defensive third as more of a shutdown defender. That's been to the chagrin of many scouts who see Bowey has a cannon shot and good skill but possibly lacks the confidence and offensive hockey sense to use them at this stage in his career. There's also probably some concern about Bowey's mediocre-sized frame. No, he's not a dwarf, but he's a shade smaller than the NHL ideal. So, it's a glass half empty/half full proposition. Do you view Bowey as a guy who already does well at elements of his game that are typically harder for an 18 year old to excel at and assume the offense will come around? Or, do you worry the things he's good at now might not translate well to the league against bigger, stronger men and that his offense will never come around? If you're in the former camp, Bowey's a first rounder. If you're in the latter, Bowey may be around to take at 33.
D Robert Hagg, 6'2" 204 lbs, MODO (SWE)
Here's a riddle wrapped in an enigma. Athletically, many argue Hagg should be a first rounder and THN has him as high as the 12th best prospect in the draft. But, he's wildly inconsistent to the point that many teams may stay off of him until the second round. He's got most everything you want from a defenseman. He's got good size and strength and will engage in the physical game. He's got one of the hardest shots in this draft and distributes the puck well. And, he's got excellent straight line speed. Where he lacks is in his focus, which leads to poor decision-making on when to jump into plays and he may have some tightness in his lateral skating and pivots which lead to poor gap control and getting beat wide too much. He's a lefty, which is another minor scratch against him, but he does come out of the same program as Victor Hedman so, do the Lightning roll the dice if Hagg falls that far?
D Ian McCoshen, 6'2" 207 lbs, Waterloo (USHL)
A lot of mocks have McCoshen going in the late 1st round, and he's a lefty, but a lot of his game would appear to be a good fit for the Lightning. Like Santini, he's going to Boston College next year, and he's doing so with the reputation of being a solid stay-at-home defenseman who plays with some edge. He does possess a big shot and some puck distributing savvy on the PP, but that may not be his game in the NHL. But, with that aside, to me there's nothing wrong with a minute-eating 20 point a year type guy if he can help shut down the opposition's scoring lines and shows some edge to protect around his crease.
Other options certainly exist for that pick, but there's six names to look for in the second half of the first round tomorrow as, hopefully, a couple of them survive to the Lightning's pick at 33rd overall. With any luck, I suspect the Lightning may have a franchise forward and future top-4 defenseman when the dust clears.
Submitted by pete on June 18, 2013 - 20:56
All good things...
GR-5
SYR-2
Grand Rapids Wins the Series 4-2
Grand Rapids Wins the Calder Cup
Cedrick Desjardins allowed 3 goals on 23 shots in a game that encapsulated the Finals for Desjardins. Brilliant at times, he allowed a goal through him on the eventual game winner by Evans that he surely wishes he had back. It will be interesting to see how Julien BriseBois retools between the pipes for next season, because you can make the argument the difference between Desjardins and Mrazek was, in large part, the difference between champion and runner-up.
First Period
SYR Panik, (9) (Taormina, Palat), 17:15
Second Period
GR Callahan, (6) (Ferraro, Grant), 2:23
GR Tatar, (15) (Nyquist, Ferraro), 12:41 (PP)
Third Period
SYR Sustr, (2) (Namestnikov, Devos), 5:14
GR Evans, (2) (Callahan, Sheahan), 9:54
GR Tatar, (16) (Andersson, Nyquist), 19:11 (EN/PP)
GR Andersson, (3) (Glendening), 19:54 (EN)
I think Lightning fans everywhere, even with the bitterness of this defeat, need to start by saying, "thank you" to this group of players. The team we've referred to as "SyraNo" on this site, which won a championship in Norfolk last year and almost did again this year with Syracuse has been one of the best groups of players ever to take the ice together in the AHL. A lot of these guys, like Radko Gudas who returned tonight from injury, are ticketed for the NHL next year. Others, some of the really veteran guys, may move on in the offseason. So, this group of guys will never be together again, but we should tip our hat to them for two years of sustained brilliance the likes of which we're unlikely to see again anytime soon.
As for the young prospects who will likely return to Syracuse next season, I found myself highly impressed with Vladislav Namestnikov and Andrej Sustr, both of whom got stronger as the playoffs wore on. Namestnikov is a legit threat to be an AHL All-Star next season, if not more, with his wizardry with the puck and Sustr is something rare and interesting in pro hockey. You have to put aside the fact Andrej is 6'8", because he refuses to play to type. He's not a bone crunching stay-at-homer, and there's a lot of times he looks like a forward with his ability to read the play offensively and jump into the action. His feed to Tyler Johnson in the slot in the Third Period tonight was an incredible bit of vision that I think stunned TJ a bit, and darned near got Syracuse the key goal they needed in the final frame. That's after he tied the game once in the final period with an absolute bullet from the point. These two guys will be fun to watch develop next season.
Ondrej Palat finishes the playoffs as the AHL leader in postseason scoring. Well done, Mr. Palat.
Box score from TheAHL.com.
Submitted by pete on May 29, 2013 - 20:50
Grand theft in Pennsylvania.
SYR-2
WBS-0
Syracuse Leads the Series 2-1
Cedrick Desjardins stopped all 22 shots he faced for the win. He gets a lot of deserved criticism at times for his mechanics and footwork, and Julien BriseBois deserves some scrutiny for moving Dustin Tokarski to get Desjardins. But, Cedrick absolutely stole this game tonight. Stole it. Syracuse was outplayed pretty soundly, especially in the Second Period, and Desjardins just battled right through it. The Penguins have to be demoralized, because they played the game they had to and Desjardins put on his ski mask and heisted the win from them.
First Period
NO SCORING
Second Period
SYR Namestnikov, (1) (Palat), 7:29
Third Period
SYR Brown, (3) (Angelidis), 19:55 (EN)
Desjardins and Vladislav Namestnikov were the game's first and second stars. Namestnikov scored his first pro playoff goal on a slapshot from the high slot shortly after replacing an injured Richard Panik on the team's top line. We'll see if Panik returns for Game Four.
Glad to see J.T. Brown get the empty netter. His line with Angelidis and Wyman was the best the Crunch had tonight my a mile. By. A. Mile. It wasn't even close. I think if Zettler could've cloned that line, he'd have thrown them out for the entire game. That line is in many ways a perfect third line because they're hard on the puck, responsible defensively, and they have just enough scoring touch to keep you honest. Nobody else was doing anything consistently and certain players like Brett Connolly had notably subpar games by their standards.
You hope this was an abberation, and now that Syracuse has stolen home ice back they play up to their usual form in Game Four on Friday. If they can, they've got a shot at the short series. If they can't, and they keep playing like they've played in the last 70 minutes of this series, they're in deep trouble.
Box score from TheAHL.com.
Submitted by pete on May 26, 2013 - 20:57
By the skin of their teeth...
WBS-2
SYR-3
Series Tied at 1-1
Cedrick Desjardins allowed 2 goals on 18 shots for the victory. If someone can explain to me what case of amnesia struck he and his defensemen on the second Penguins goal, I'd love to hear it. They forgot they were in a playoff game and they almost set in motion events that could've cost them what should've been an easy win.
First Period
SYR Sexton, (3) (Connolly, Barberio), 18:56 (PP)
Second Period
SYR Taormina, (2) (Angelidis, Sustr), 7:07
WBS Mormina, (1) (Dumoulin, Kolarik), 8:13 (PP)
SYR Korobov, (1) (Gudas, Palat), 11:40 (SH)
Third Period
WBS Holzapfel, (4) (Grant), 14:02
Ondrej Palat, Dmitry Korobov, and Dan Sexton were the game's three stars.
You'll rarely see a game as one-sided as this one was for the first 50 minutes or so. Syracuse dominated territorily and on the shot board, holding the Pens to just 1 shot in the entire First Period. They played like you expect them to play with very good efforts by J.T. Brown and Vladislav Namestnikov, among others, with Dmitry Korobov blowing the game open a bit with a shorthanded goal that he whistled by Thiessen top shelf.
And then all hell broke lose. An accidential collision had Tyler Johnson limping off the ice not to be seen again, and we don't know if he'll be available for Game Three Wednesday. A bizarre play where the D and Desjardins looked like a bunch of clueless 5 year olds led to a second Pens goal, and the next thing you know the team was holding on for dear life in the final 5 minutes.
This is what the Penguins wanted. They have to turn this series into a war of attrition to have a chance. Syracuse needs to go to their barn and steal home ice back Wednesday and take control back of the series. They have the pieces to do it, even if Johnson can't go. But, man, that's as disorganized as I've ever seen a SyraNo team protecting a lead late in the last 2 years. That was terrifying.
Side note: when his playing days are over Jared Nightingale has a future in broadcasting, having heard him on a few Syracuse games now. That's not a shot on other players who have done it for the affiliate over the past couple of years, but Nightingale's got the chops for it.
Box score from TheAHL.com.
Submitted by jghoughtaling on May 24, 2013 - 13:51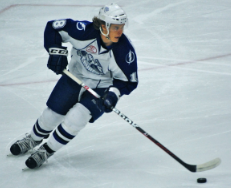 By Jeremy Houghtaling

Vladislav Namestnikov dipped his shoulder, turned the corner on the defenseman and drove right to the net.
The Crunch forward plowed through Springfield Falcons goalie Curtis McElhinney, creating a rebound for Mark Barberio to bury less than a second later to give Syracuse a two-goal lead in the fourth game of the Eastern Conference Semifinals last week. It was Namestnikov's first of two assists on the night, his first professional postseason points.
"Not a lot of players make that play," said Syracuse coach Rob Zettler. "A lot of players go behind the net instead of going to the front of the net. He's got the courage and the speed to make those plays."
For Zettler, it's just one example of the recent development in Namestnikov's game.
"Over the last two or three weeks, his play has really elevated," Zettler said of the 20-year-old. "He's really skating well, he's battling for pucks and going to the hard areas."