Syracuse Crunch
Submitted by jghoughtaling on November 14, 2012 - 18:01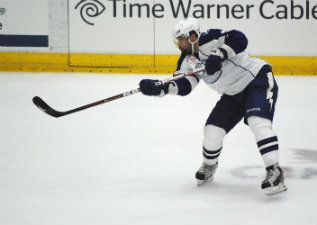 By Jeremy Houghtaling

Growing up, Radko Gudas modeled his game after two players.
The first, his father Leo, represented his country in multiple world championships and won the bronze medal for Czechoslovakia in the 1992 Olympics.
"I learned how he played, and that's how I play," Gudas said. "He was a really hard hitter, he had a good shot – a really good defenseman."
North American hockey fans are more familiar with the second player – longtime NHLer Scott Stevens, a fearsome defenseman with the most penalty minutes of any player enshrined in the Hall of Fame.
Submitted by jghoughtaling on November 11, 2012 - 00:49
Pierre-Cedric Labrie recalled looking at the scoreboard with 14 minutes remaining.
With the Syracuse Crunch trailing 3-2, the forward saw 23 listed as his team's shots on goal. Twelve minutes later -- and the Crunch now trailing by three to the Rochester Americans -- the number had only changed by one.
"We can't win the game (like that) if we're losing by two or three," Labrie said. "If you don't shoot, you don't score."
Syracuse's 5-2 loss at the Onondaga County War Memorial Saturday snapped a three-game winning streak overall, and was the third straight loss on home ice.
Submitted by pete on November 10, 2012 - 23:35
Helenius and the Crunch crumble in the third period.
RCH-5
SYR-2
Riku Helenius allowed 5 goals on 24 shots for the loss. He allowed 3 of those goals on 9 shots in the third period. Helenius looked to be back on the right track after a shutout in his last start, but he's been knocked back down to a 3.78 GAA and an ugly .852 sv% with this result.
First Period
NO SCORING
Second Period
RCH Tarnasky, (3) (Legault, Schofield), 5:28
SYR Panik, (4) (Devos, Killorn), 9:17 (PP)
RCH Rankin, (4) (Biega, Foligno), 12:16
Third Period
SYR Conacher, (7) (Palat, Nightingale), 3:45
RCH Foligno, (6) (Rankin, Flynn), 6:12
RCH Brennan, (6) (Mancari, Sundher), 9:38
RCH Flynn, (4) (Foligno, McNabb), 18:08
Richard Panik (pictured) was the game's second star. After a slow start to his season he now has 4 goals and 8 points in 11 games, and a 4 game points streak.
It's a tough thing to see Bolt Prospects Alumni Nick Tarnasky contribute for Rochester. Et tu, Tarnasty?
Syracuse faces Hershey next on Friday.
Box score from TheAHL.com.
Submitted by pete on November 9, 2012 - 23:43
The defense doesn't rest for the Crunch.
SYR-4
HAM-1
Dustin Tokarski allowed 1 goal on 14 shots for the win. Yes, 14 shots. That's getting a full game check for half the work. Thank your defense, Tic.
First Period
SYR Devos, (1) (Korobov, Gudas), 16:07
Second Period
HAM Quailer, (1) (Nattinen, Dumont), 2:07
SYR Angelidis, (4) (Wyman, Brown), 19:08
Third Period
SYR Johnson, (7) (Panik, Palat), 7:58
SYR Johnson, (8) (Panik, Gudas), 10:55
Tyler Johnson and Ondrej Palat were the game's first and second stars. Palat (pictured) is now tied for 3rd in the AHL in assists.
Panik attack, y'all. 2 helpers.
But, seriously. 14 shots? The Crunch already have an abnormal amount of offensive firepower. You're telling me they also have the ability to hold another professional team to 14 shots on goal defensively? Just give them the repeat now, if that's the case. It's just not fair to the rest of the league.
Box score from TheAHL.com.
Submitted by pete on November 7, 2012 - 22:24
Finland representing.
SYR-3
HAM-0
Riku Helenius (pictured) stopped all 23 shots he faced to post his second career AHL shutout.
First Period
NO SCORING
Second Period
SYR Korobov, (1) (Taormina), 6:01
SYR Wyman, (2) (Killorn, Gudas), 15:40
Third Period
SYR Panik, (3) (Palat), 18:14 (EN)
Helenius and Dmitry Korobov were the game's first and second stars, respectively. Korobov's goal was his first career AHL goal. It was originally awarded to forward J.T. Brown who was back in the lineup tonight after missing a couple of weeks of action. He was +2 with 3 shots on goal. Wait til the rust falls off.
Panik attack, y'all. Empty net style.
The real story is Helenius getting off the canvas, though, with his first AHL shutout since he was a rookie about four years ago. His season GAA and save percentage are still the dog's breakfast, but readers of this site last season know what Helenius did early in the season in the SM-liiga last year when he turned one shutout into bunches of shutouts. It's a good omen for the Crunch.
Syracuse wraps up the two game set against Hamilton on Friday in Montreal.
Box score from TheAHL.com.
Submitted by chad on November 7, 2012 - 14:33
JT Brown was just getting his feet wet in the National Hockey League.
In the final game of the 2011-12 regular season – his fifth game since the free agent collegian chose the Tampa Bay Lightning – the highly sought-after prospect registered an assist for his first professional point.
But more importantly, the short time in Tampa gave Brown a taste of the NHL lifestyle, the speed of the game, and the coaching systems.
Submitted by pete on November 2, 2012 - 21:28
Impressive thumping of a team with a lot of NHL talent on it.
SYR-4
ADK-1
Dustin Tokarski (pictured) picked up his 4th win of the season by stopping 23 of the 24 shots he faced. His numbers so far look like a carbon copy of last season's, right down to the .913 save percentage.
First Period
SYR Conacher, (6) , 10:03
ADK Zolnierczyk, (3) (Eddy, Couturier), 17:37
Second Period
SYR Panik, (2) , 5:41
SYR Johnson, (6) (Taormina, Cote), 7:16
Third Period
SYR Taormina, (1) , 19:22 (EN/SH)
Tokarski and Cory Conacher were the game's first and second stars.
Panik attack, y'all! Off the milk carton and onto the scoresheet.
This was a really odd game when you think that Syracuse actually got held down to 18 shots. As I said, there's a lot of NHL talent on Adirondack. On paper, they're one of the real threats in the conference, so to whip them 4-1 in their barn is good for the soul.
Syracuse is off until Wednesday when they'll start a 2 game set against Hamilton.
Box score from TheAHL.com.
Submitted by jghoughtaling on November 2, 2012 - 17:00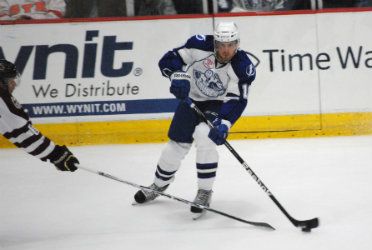 By Jeremy Houghtaling

Alex Killorn certainly doesn't seem like a rookie.
With nearly as many playoff games as regular season, the 6-foot-1, 201-pounder is quietly piling up points like a veteran.
Registering six points over his first seven games in his first full professional season with the Syracuse Crunch, Killorn is improving on the impressive pace he set during his first taste of pro hockey last spring.
"When he came in, the game slowed down for him right away, within a couple of games," Crunch head coach Jon Cooper said. "You look at some of our other rookies…It took those guys a little bit more time."
Submitted by jghoughtaling on October 28, 2012 - 19:57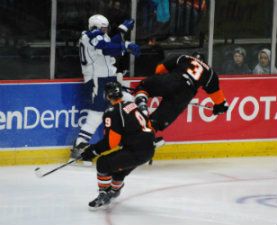 By Jeremy Houghtaling

The game turned quickly.
Having shut down eight previous Adirondack Phantom power plays, the Syracuse Crunch clung to a 3-2 lead with less than two minutes remaining.
Brayden Schenn capitalized on a 6-on-3 with 1:02 left in regulation with Cal Heeter pulled from the Phantoms' net to tie the game and Brandon Manning found the back of the net on a 5-on-3 14 seconds into overtime as Adirondack stunned Syracuse with a 4-3 win at the Onondaga County War Memorial Sunday afternoon.
Submitted by pete on October 28, 2012 - 18:12
Snatching defeat from the jaws of victory.
ADK-4
SYR-3 (OT)
Riku Helenius allowed 4 goals on 29 shots for the overtime loss. He's struggled in his past couple of starts and currently checks in with a horrific .824 save percentage. Ouch.
First Period
SYR Connolly, (3) (Conacher), 8:21 (PP)
Second Period
ADK McGinn, (2) (Syvret, Schenn), 1:07
ADK McGinn, (3) (Schenn, Mangene), 8:45
SYR Killorn, (1) (Palat), 13:31
SYR Killorn, (2) (Taormina), 14:01 (PP)
Third Period
ADK Schenn, (4) (Couturier, Gustafsson), 18:58 (PP)
Overtime
ADK Manning, (2) (Schenn, Couturier), 0:14 (PP)
Alex Killorn (pictured) was named the game's second star. I got a question on the message boards about Alex Killorn's quiet start. Two goals and six points in his first seven games is nothing to sneeze at. On the list of things that concern me about the start of this season, J.T. Brown getting nicked up and Richard Panik having his photograph on the side of a milk carton rate quite a bit higher.
Syracuse came within 1:02 if taking a win against an Adirondack team that, on paper, looks to be one of the better teams in the conference. I liked the start, with Brett Connolly cashing a check he wrote in his interview after yesterday's game, and I liked Killorn bringing the team back after surrendering the lead in the first half of the second period. But, they got back on their heels a bit in the third period and didn't quite get that one more big save they needed. Welcome to the lockout version of the AHL, boys. You're going to have to up your game when protecting a lead when 1/4 of Adirondack's roster was playing in Flyers jerseys last year.
The rematch goes down Friday night in Adirondack.
Box score from TheAHL.com.