Syracuse Crunch
Submitted by jghoughtaling on October 27, 2012 - 23:47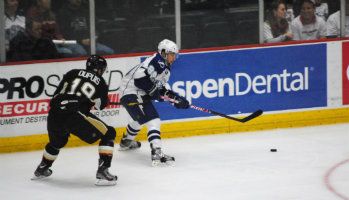 By Jeremy Houghtaling

It took all of 38 seconds for the Syracuse Crunch to find the back of the net Saturday, but it was all downhill from there.
Seeing Brett Connolly and Alex Killorn crashing the net, Cory Conacher threw the puck on goal. After banking off one of the Wilkes-Barre Scranton Penguins defenders' skates, it slid past goalie Jeff Zatkoff.
"That was one good bounce we had all game," Conacher said.
Submitted by pete on October 27, 2012 - 21:29
The Lightning's AHL affiliate suffers its first regulation regular season loss since the day of the Super Bowl.
WBS-4
SYR-1
Dustin Tokarski allowed 3 goals on 32 shots for his first regulation loss of the year. Your serve, Riku.
First Period
SYR Conacher, (5) (Killorn, Connolly), 0:38
WBS Tangradi, (3) (Grant), 14:10
Second Period
WBS Holzapfel, (2) (Gibbons, Reese), 5:35
WBS Bennett, (1) (Smith, Ferriero), 7:57 (PP)
Third Period
WBS Tangradi, (4) , 18:06 (EN)
Cory Conacher was the game's second star.
Coincidentally, the Norfolk Admirals also lost their first game of the season tonight, finally snapping that franchise's regular season win streak. Quite the run for both these players in Syracuse and that franchise down in The Commonwealth.
Syracuse gets Adirondack tomorrow afternoon, presumably with the big Finn Helenius between the pipes.
Box score from TheAHL.com.
Submitted by chad on October 23, 2012 - 18:06
This week we continue our Prospect of the Week award, an honor (virtually) given to one Tampa Bay Lightning prospect for their recent contributions on and off the ice.
This week's winner is no stranger to winning.
The Prospect of the Week for October 23 is … Dustin Tokarski, goaltender, Syracuse Crunch (AHL - USA)
Despite winning a Calder Cup last season, Lightning goaltending prospect Dustin "Tic" Tokarski wasn't guaranteed anything when he moved with Tampa Bay's affiliation from Norfolk to Syracuse. Even with a Calder Cup, World Juniors gold medal, Memorial Cup, Ed Chynoweth Cup (WHL), and Telus Cup (Canadian Midget-level hockey) on his resume, the Saskatchewan native had to outplay former Lightning first rounder and Finnish import Riku Helenius for the right to start the Crunch's season-opening game.
Submitted by jghoughtaling on October 23, 2012 - 11:32

By Jeremy Houghtaling

As far as Mark Barberio is concerned, this season started with a clean slate.
Four months ago the 22-year-old, in his second professional season, hoisted the Calder Cup with the Norfolk Admirals and was named the winner of the Eddie Shore Award as the American Hockey League's top defenseman – and he's the first to point out those accomplishments are in the past tense.
"It was one season, and I'm not going to sit on that season and say 'Yeah, I had a good year,'" Barberio said. "That's all great, but there's a new season now and it's time to get back at it and win hockey games again."
Last season, Barberio notched 61 points in 74 regular season games and followed with nine points in 18 playoff contests. Now the Syracuse Crunch power play quarterback, it took Barberio a little more than five minutes to find the back of the net in the season opener in Rochester.
Submitted by pete on October 21, 2012 - 20:00
Tic goes 3-0-0-0 for the weekend.
SYR-3
WBS-1
Dustin Tokarski allowed just 1 goal on 21 shots to collect his third victory of the weekend and the season. He came within 1:57 of the shutout before Phillipe Dupuis popped in a power play goal to spoil the bid.
First Period
SYR Aulie, (1) (Palat, Connolly), 3:38
SYR Conacher, (4) (Connolly, Palat), 16:03 (PP)
SYR Johnson, (5) (Barberio, Killorn), 17:54 (PP)
Second Period
NO SCORING
Third Period
WBS Dupuis, (2) (Dumoulin, Reese), 18:03 (PP)
Keith Aulie (pictured), Brett Connolly, and Tokarski were your three stars. Aulie popped in his first goal of the season, which was his 6th in 115 career AHL games. He's the secret weapon. Connolly raised himself up to a point a game pace with his second multi-point outing in as many nights.
These two teams rematch Saturday in Syracuse. The Crunch moved into a one point lead over Norfolk in the division with the W.
Box score from TheAHL.com.
Submitted by pete on October 20, 2012 - 22:59
When Panik attacks...
SYR-6
BNG-5 (OT)
Riku Helenius allowed 5 goals on 13 shots before leaving at 9:30 of the Second Period for dropping the gloves with opposing netminder Robin Lehner (yes, that happened). Dustin Tokarski was flawless on 14 shots the rest of the way for his second victory of the season.
First Period
BNG Hoffman, (1) (Silfverberg, Zibanejad), 7:25 (PP)
BNG Cannone, (1) (Hoffman, Petersson), 9:18
Second Period
BNG Eckford, (2) (Stone, Petersson), 1:35 (PP)
BNG Grant, (1) (Stone), 2:51
BNG Borowiecki, (1) (Claesson, Schneider), 6:35
SYR Conacher, (3) (Johnson), 10:29
SYR Barberio, (2) (Johnson, Connolly), 12:36 (PP)
Third Period
SYR Connolly, (2) (Labrie, Korobov), 6:57
SYR Palat, (1) (Johnson, Panik), 11:39
SYR Wyman, (1) (Panik, Barberio), 16:18
Overtime
SYR Panik, (1) , 3:44
Richard Panik (pictured) was the game's first star, assisting on the final two goals in regulation of Syracuse's comeback before bagging the overtime winner. That's how you break out of your early season mini-slump in style.
Tonight's win has to be considered a super concentrated, extra strength, team-building win. This was a vicious, nasty game that saw the teams rack up a combined 152 penalty minutes and reached the height of mutual contempt in the brawl between Lehner and Helenius at center ice. That, in and of itself, would make the W a sweet one. But, to crawl out of a 5-goal hole to get the 2 points? That's how you ingrain belief in the team concept. On the other end of the rink, Bingo not only blew a 5 goal lead, but they blew a 3 goal lead going into the Third Period, which should be a death sentence for the trailing team in professional hockey. That's going to be a devastating pill for them to swallow psychologically.
Aside from Panik, multi-point nights abounded for the Crunch, with Tyler Johnson racking up 3 helpers and Mark Barberio and Brett Connolly each getting 1 goal and 1 assist. Newcomer Dmitry Korobov also hit the scoresheet for the first time this season with a helper and was a solid +3 in the win.
Syracuse ended up outshooting Binghamton 42-27 in the game. The Crunch conclude the weekend tomorrow against Wilkes-Barre/Scranton.
Box score from TheAHL.com.
Submitted by jghoughtaling on October 17, 2012 - 13:09

By Jeremy Houghtaling
When Ondrej Palat was first drafted as a 19-year-old, the Tampa Bay Lightning weren't sure if he could immediately challenge for a spot in the American Hockey League.
The Czech winger, taken in the seventh round in 2011, didn't waste time showing he was ready to make the jump to professional hockey, earning a contract less than a month into the 2011-12 season.
Now, after posting 39 points in his initial AHL campaign with the Norfolk Admirals and winning a Calder Cup, Palat is settling into his role on one of the Syracuse Crunch's top lines.
Submitted by chad on October 15, 2012 - 17:13
The American Hockey League announced today that Syracuse Crunch left wing Cory Conacher was selected the CCM/AHL Player of the Week for the period ending Oct. 14, 2012. Conacher was also named our prospect of the week here at Bolt Prospects. Since the AHL candidates for their award far outnumber the number of prospects in the Lightning organization, we listed the AHL's award first. On pure importance, value, and prestige, ours would be listed first, of course. But we're nice.
#deathtaxesConacher
Conacher picked up where he left off last season when he was named the AHL's Most Valuable Player and Most Outstanding Rookie. During the league's opening weekend, Conacher potted two goals and added three assists. His center, Tyler Johnson, had three goals, and his opposite winger, Ondrej Palat, had three helpers over the weekend.
Submitted by jghoughtaling on October 15, 2012 - 12:38
By Jeremy Houghtaling
Cory Conacher did a little bit of everything Saturday.
Besides supplying the Crunch with a goal and an assist, he played the point on the first power play unit and drove hard to the net when he wasn't. The last part surely got under the skin of Bears goalie Braden Holtby. The two met in the crease a few times, and at one point it appeared Holtby was throwing punches after the two crashed into the net.
"I just broke my stick and stumbled into him," Conacher said. "I'm the one that goes to the net and does that kind of stuff."
Submitted by chad on October 14, 2012 - 08:57
Fruitless on four previous power play attempts, the Syracuse Crunch found themselves with a two-man advantage for nearly two full minutes early in the third period Saturday.
With plenty of extra time and space, it took only 34 seconds for Mark Barberio to set up Brett Connolly with a one-timer that beat Hershey Bears goalie Braden Holtby from the point.
"I had a few chances last night and tonight," Connolly said. "It's always nice to see the puck go in the net."