Syracuse Crunch
Submitted by pete on June 15, 2013 - 21:16
Syracuse gives themselves a chance.
SYR-5
GR-2
Grand Rapids Leads the Series 3-2
Cedrick Desjardins allowed 2 goals on 42 shots for the win. 40 saves as Grand Rapids threw the kitchen sink at Syracuse to try to avoid having to head back to New York.
First Period
SYR Palat, (7) , 8:39
SYR Connolly, (6) (Johnson, Barberio), 16:09 (PP)
GR Grant, (2) (Ferraro, Callahan), 17:38
Second Period
GR Tatar, (14) (Nyquist, Billins), 5:36 (PP)
SYR Panik, (8) (Barberio, Palat), 11:59 (PP)
Third Period
SYR Johnson, (10) (Palat, Taormina), 0:36
SYR Sexton, (6) (Namestnikov), 17:16 (EN)
Desjardins and Tyler Johnson were the game's first and second stars.
And, just like that, Syracuse has given itself an opportunity at something legendary. Headed west to Michigan their mission was to win 2 out of 3 to get things back to Syracuse with home ice. Things looked bleak as bleak can be down 3-0, but they ultimately accomplished their mission, and withstood an attempted haymaker from Grand Rapids tonight in Game Five to stay alive in the series. Now they have, potentially, 2 games at home to pull of what seemed fairly impossible 48 hours ago.
However, Syracuse can't confuse momentum for destiny. They need to show the maturity to understand that all they've accomplished in the past 2 nights was to book their tickets to a Game Six that for many of them is going to be some of the toughest, most intense hockey of their career. Grand Rapids actually probably has less pressure on them in Game Six than they did in Game Five, because the chance to clinch at home is written off and they can fall back on the fact that they haven't lost a game yet in Syracuse's barn. The Crunch need to understand that. Game Six is going to be a war. Hopefully, it's a war where Syracuse's shorter path to the Finals starts to pay some dividends. Grand Rapids played a 7 game series in the Western Conference Finals after going 6 games with the Marlies and the full 5 against the Aeros. Syracuse has to hope that as the battle becomes more pitched in Game Six, they have a little more left in the tank than Grand Rapids does. But, they can't rely on that to just kick in automatically. They have to push that much harder now to make it happen. If they do, there's a good chance they'll get to Game Seven.
Box score from TheAHL.com.
Submitted by pete on June 14, 2013 - 21:07
Syracuse shows some pride.
SYR-3
GR-2
Grand Rapids Leads the Series 3-1
Cedrick Desjardins allowed 2 goals on 28 shots for the victory.
First Period
GR Andersson, (2) (Evans, Billins), 3:37
SYR Connolly, (5) , 5:04
GR Mursak, (11) (Hoggan, Glendening), 11:04
Second Period
SYR Palat, (6) (Panik), 14:01
SYR Panik, (7) (Barberio, Cote), 16:52
Third Period
NO SCORING
Richard Panik and Ondrej Palat were the game's first and second stars. Palat leads all AHL'ers in playoff scoring.
Certainly Syracuse is still in horrible shape in the series down 3-1 and the odds are still long as long can be, but by winning tonight Syracuse places some pressure on Grand Rapids to finish up this series at home in Game Five before the scene shifts back to Syracuse. Because of that, you can expect the Griffins' best shot tomorrow, but if Syracuse can withstand that and pull out a win they'll actually hold home ice advantage with a chance to make a minor miracle happen. I'd say they owe it to themselves and to their fans back in upstate New York to make that happen.
C'mon boys. Give yourselves an opportunity to do something legendary.
Box score from TheAHL.com.
Submitted by pete on June 12, 2013 - 20:43
Bleakness.
SYR-2
GR-4
Grand Rapids Leads the Series 3-0
Cedrick Desjardins allowed 4 goals on 29 shots for the loss. Maddeningly uneven play from Cedrick. He'll look brilliant on a breakaway one minute and allow a wraparound or bad angle goal the next.
First Period
SYR Panik, (6) (Johnson, Cote), 10:21
Second Period
GR Tatar, (13) (Paetsch), 2:09
GR Glendening, (6) (DeKeyser, Mursak), 4:53
SYR Sexton, (5) (Cote), 9:56
Third Period
GR Mursak, (10) (Hoggan), 15:11
GR Hoggan, (5) , 17:32
The bottom just fell out in the Third Period. Syracuse looked the better team through 40 minutes and had the balance of the zone time, but they looked completely outclassed in the final frame. And Grand Rapids has been far better at converting their chances. Guys like Tyler Johnson and J.T. Brown had quality chances in tonight's game, but it appears Mrazek may be in their heads because they're cutting their chances too fine rather than trying to get some greasy goals. It's a recipe for losing and going down 0-3 in a series.
Just win a game. One game. That's all Syracuse can focus on right now. They've got nothing else at this point.
Box score from TheAHL.com.
Submitted by jghoughtaling on June 9, 2013 - 22:09
It was an emotional chain of events that rival most blockbusters.
After demanding a review, the Syracuse Crunch were credited with the game-tying goal. Moments later -- 26 seconds on the amended scoresheet despite more than two minutes mistakenly being added to the clock -- the Grand Rapids Griffins scored a power play goal that stood as the game-winner.
While the Griffins' Francis Pare provided the movie-like twist with a goal in the closing minutes of the six-goal, 20-plus minute second period, Jan Mursak gave the curtain call with a breakaway goal late in the third, as the Griffins topped the Crunch 6-4 in Game 2 of the Calder Cup Finals at the Onondaga County War Memorial Sunday.
"To me, that was the game," said Crunch coach Rob Zettler of the turn of events in the second. "That was huge. We had a lot of momentum, the building was rocking, fans were into it, the players were into it. There was a lot of excitement on the bench."
Syracuse trails the series 2-0, as it travels to Grand Rapids Wednesday for Game 3. Game 4 is set for Friday.
Submitted by pete on June 9, 2013 - 20:15
Trouble.
GR-6
SYR-4
Grand Rapids Leads the Series 2-0
Cedrick Desjardins allowed 6 goals on 29 shots for the loss. I don't care how you spin that. That's an ugly stat line. Desjardins suffered tonight from going long stretches without seeing any shots and then suddenly having to face a 10 bell scoring chance, like Mursak's game sealing breakaway.
First Period
GR Tatar, (12) (Evans, Nyquist), 4:29
GR Grant, (1) (Ferraro), 11:31
SYR Sustr, (1) (Taormina, Paradis), 14:03
Second Period
GR Ferraro, (5) (Hoggan, Sheahan), 6:23
SYR Panik, (5) (Connolly, Johnson), 10:06 (PP)
GR Jurco, (8) (Sheahan), 12:09 (PP)
SYR Connolly, (4) (Johnson, Palat), 16:12 (PP)
SYR Brown, (4) (Wyman), 18:23
GR Pare, (3) (Ferraro, Paetsch), 18:49 (PP)
Third Period
GR Mursak, (9) (Hoggan, Paetsch), 14:56
Brett Connolly was the game's third star.
I think these past two games put an exclamation mark on the impact Radko Gudas being absent from the lineup hurts the Syracuse Crunch. They're not giving up huge amounts of zone time or shots, but the number of odd man rushes is out of control, and the team misses its best defenseman. Clearly.
The AHL's top officials should seriously consider whether they want the players or the referees to decide their champion. The degree to which the referees have had an impact so far in this serious has been stunning for a professional league.
Now these players have to decide how much their legacy means to them. A comeback victory against the odds with 3 in a row in Grand Rapids would only add to this group's legend as one of the best assemblages of players in AHL history. Going out with a whimper makes the team look more like a one year, Norfolk wonder. They've worked too hard, I think, to let it go down like that, though. Game Three is Wednesday.
Box score from TheAHL.com.
Submitted by jghoughtaling on June 8, 2013 - 23:02
Despite the loss, the Syracuse Crunch saw plenty of positives.
The Crunch got their offensive opportunities and held the Grand Rapids' top line to an empty-netter, but had a hard time solving Griffins goalie Petr Mrazek, as they dropped Game 1 of the Calder Cup Finals 3-1 at the Onondaga County War Memorial Saturday night. Game 2 is set for Sunday evening in Syracuse.
"When we lose, we still try and keep that good feeling about ourselves," said Crunch defenseman Jean-Philippe Cote. "We've done some really good things, that's why you can never go too low when you lose and never too high when you win."
"In less than 24 hours we've got another go at them," he added. "We showed a lot of good things."
Submitted by pete on June 8, 2013 - 21:12
Long layoff, shaky goal, Mrazek, and the refs cost Syracuse Game One.
GR-3
SYR-1
Grand Rapids leads the series 1-0
Cedrick Desjardins allowed 2 goals on 20 shots for the loss. He's a bit infuriating. He was pretty well excellent throughout the game making several big stops along the way, but the eventual game winner was a long slapshot that he allowed to go through him that you simply cannot surrender in a 1-0 game in the Third Period. So frustrating.
First Period
GR Callahan, (5) (Billins, Evans), 6:45
Second Period
NO SCORING
Third Period
GR Sheahan, (3) (Mursak), 12:00
SYR Cote, (1) (Angelidis, Brown), 13:19
GR Nyquist, (2) (Andersson), 19:45 (EN/PP)
Ondrej Palat was the game's third star. There's little doubt he was the straw that stirred the drink on the reformed PTP line tonight with Richard Panik back in the lineup. They got a fair number of scoring chances, but Petr Mrazek is a damned good goaltender. The Crunch definitely learned that tonight.
Also helping Mrazek out was that Syracuse showed just a bit of rust from their long layoff. In the first half of the game it seemed their short to mid-range passes were just a shade off of clicking, and it really allowed Grand Rapids to keep Syracuse away from the kind of zone time domination the Crunch thrive off of. They've got to find a way to better establish their forecheck headed into Game Two.
Beyond that, it should be noted that the refs waved off a goal in the match on a power play in the Second Period that should have tied the game on a crease violation where the replay showed no real contact with Mrazek. Between that and an interference penalty that went uncalled late in the Third Period right before Panik took a call that essentially ended the contest, the refs influence on the game could hardly be underestimated. Again, frustrating, and I think the wave off of the goal definitely deflated Syracuse for the rest of the Second and on into the early Third Period.
So, now Syracuse falls behind the 8-ball with Grand Rapids stealing home ice and playing with house money in Game Two. Hopefully Syracuse will get Radko Gudas back for the contest, because the thought of being down 0-2 before heading west is beyond unappealing.
Box score from TheAHL.com.
Submitted by jghoughtaling on June 7, 2013 - 19:05
For the Syracuse Crunch, it's all about setting the tempo.
With the Grand Rapids Griffins visiting the Onondaga County War Memorial for Games 1 and 2 of the Calder Cup Finals Saturday and Sunday, the Crunch are focused on their own play more than the Griffins' talented forwards.
"What we really have to focus on isn't what they're going to bring at us," said Syracuse defensemen Jean-Philippe Cote. "We've got to set the tone, and play as high-tempo as we can."
"We don't want them to dictate the pace of play…We don't want them to play their game; we want them to play our game," said Crunch forward JT Wyman.
That game plan has worked for Syracuse.
After sweeping the Portland Pirates in the first round and the Springfield Falcons in the second, the Crunch topped the Wilkes-Barre/Scranton Penguins in five games. Ondrej Palat is tied for the league lead in postseason points (20), and Tyler Johnson, the league's most valuable player, is just three points behind.
Submitted by jghoughtaling on June 7, 2013 - 09:46
Despite being a former first-round draft pick, Philippe Paradis isn't known for his scoring touch.
The Syracuse Crunch grinder was held without a point in his first 11 games of the Calder Cup playoffs as he was more focused on finishing his checks to soften up the opposition's defense.
With a chance to eliminate the Wilkes-Barre/Scranton Penguins last Saturday, Paradis finally broke through to the scoresheet in a big way. The Quebec native scored three times in a 7-0 rout, and the Crunch finished off the Penguins in Game 5 of the Eastern Conference Finals.
"I was just trying to get the first one," Paradis said. "The game was tight; that one was more important than the other ones. I just put the puck on the net and ended up scoring."
While Syracuse's Ondrej Palat is tied for the postseason points lead with 20 points, and the league's most valuable player, Tyler Johnson, is three points behind, the Crunch's depth players -- the shutdown line and crash and bang guys -- have chipped in with some of the more crucial goals.
With Syracuse hosting the Grand Rapids Griffins in Game 1 of the Calder Cup Finals Saturday, the Crunch are hoping to continue receiving offensive output from each player.
Submitted by jghoughtaling on June 6, 2013 - 08:50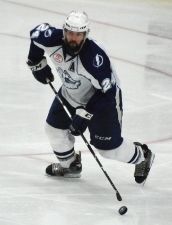 For Jean-Philippe Cote, leadership begins off the ice.
The Syracuse Crunch defenseman knows that although he needs to use his play as an example for the younger players on his team, there is another element to wearing a letter on his sweater. Cote believes getting the best out of each player begins with making them feel comfortable.
"I like when a guy like (rookie defenseman) Andrej Sustr comes to me like 'Is there anything I can do to be a better player?'" Cote said. "I love it. I like discussing hockey with those younger guys. But to get someone on the team, that happens outside the ice."
Like last year on the Calder Cup-winning Norfolk Admirals, the leadership of captain Mike Angelidis and alternate captains Cote Mark Barberio -- among many others -- has pushed the Syracuse Crunch into the American Hockey League finals.