Crunch fall to Penguins, 4-1
Submitted by jghoughtaling on October 27, 2012 - 23:47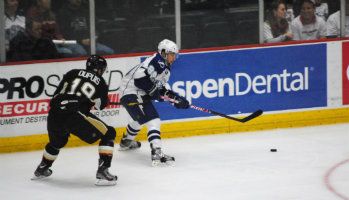 By Jeremy Houghtaling

It took all of 38 seconds for the Syracuse Crunch to find the back of the net Saturday, but it was all downhill from there.
Seeing Brett Connolly and Alex Killorn crashing the net, Cory Conacher threw the puck on goal. After banking off one of the Wilkes-Barre Scranton Penguins defenders' skates, it slid past goalie Jeff Zatkoff.
"That was one good bounce we had all game," Conacher said.
The Crunch's offense struggled for the remaining 59 minutes, falling to the Penguins 4-1 at the Onondaga County War Memorial. The loss snapped Syracuse's four-game winning streak, and was its first loss in regulation this season.
For many of the players who were with the Tampa Bay Lightning's American Hockey League affiliate in Norfolk last year, it was their first regular season regulation loss since Feb. 5.
"It was just a very inconsistent game for us," Conacher said. "We would play good for five minutes, and then not so good for 10 … We've got to find a way to play for the full 60 minutes, and tonight we just didn't have that."
The Crunch (4-1-0-1) had sporadic opportunities throughout the game. They led in shots 35-29, but went 0-for-7 on the power play and couldn't find an answer to four straight Penguins goals.
Eric Tangradi tied the game with less than six minutes left in the first, and Riley Holzapfel and Beau Bennett each notched goals less than three minutes apart in the second. Tangradi rounded out the scoring with an empty-netter in the final two minutes.
"You can't blame anything on the bounces we got, because we just didn't work hard enough to get them," Conacher said. "They worked hard and that's why they got the bounces, and that's why they put four goals in the back of the net."
Dustin Tokarski turned away 25 shots for the Crunch, while Zatkoff finished the game with 34 saves for his first win of the year.
"With a goalie like that, we've got to get bodies in front of the net and get a lot of shots to the net," Conacher said. "If we give him space to see the puck, that's when he's going to make the big saves … You can't give a goalie like that much space."
Syracuse didn't appear to have the same magic it had one week ago when it overcame a five-goal deficit to down the Binghamton Senators in overtime.
"Everyone to a T was lazy," Connolly said. "We didn't compete. We got bounces, but we didn't work for any of them, so we dug ourselves into our own hole."
Syracuse won't have to wait long for a chance to wash the bitter taste out of its mouth. It hosts Adirondack Sunday afternoon.
"The good thing about this league is we can bounce back," Connolly said. "We have a quick turnaround tomorrow and we can put on a better showing for the fans, who come to watch us, because that was embarrassing."
Pictured: Crunch forward Cory Conacher fends off Penguins center Phillipe Dupuis at the Onondaga County War Memorial Saturday night.