Hard-hitting Gudas Gaining Attention
Submitted by Anonymous on November 14, 2012 - 18:01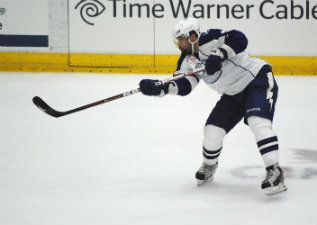 By Jeremy Houghtaling

Growing up, Radko Gudas modeled his game after two players.
The first, his father Leo, represented his country in multiple world championships and won the bronze medal for Czechoslovakia in the 1992 Olympics.
"I learned how he played, and that's how I play," Gudas said. "He was a really hard hitter, he had a good shot – a really good defenseman."
North American hockey fans are more familiar with the second player – longtime NHLer Scott Stevens, a fearsome defenseman with the most penalty minutes of any player enshrined in the Hall of Fame.
Although he doesn't have the Stanley Cup rings or NHL experience yet, Gudas certainly is getting his opponents' attention like Stevens.
"The other team knows that when I'm on the ice, they keep their heads up," the Syracuse Crunch defenseman said.
"When he steps over the boards everybody on the other team knows he's on the ice," Crunch coach Jon Cooper said. "That's a unique trait to have, because for most players, those are the guys who are big scorers or big point guys. It's more rare when it's a guy with a physical presence like Gudas."
Standing at 6-0, 204 pounds, the Prague-native has refined his fearless, hit-like-a-truck style over three years in North America.
After being cut from Los Angeles Kings training camp in 2009, Gudas joined the Everett Silvertips of the Western Hockey League. For a player who never fought in Europe, it didn't take Gudas long to lead the Silvertips in penalty minutes (151).
Despite keeping in contact with the Kings organization throughout his lone year in juniors, Gudas was drafted by the Tampa Bay Lightning in the third round of the 2010 draft. Sent to the AHL's Norfolk Admirals later that year, he continued to pile up penalty minutes, setting a new team mark for a rookie (165).
"I don't really expect to do that, it just comes," Gudas said. "It's a part of my game. (When) I hit somebody, or somebody gets hit, I'll protect him or protect myself. It's just a part of my game."
While triple-digit PIMs are now expected from Gudas, other aspects of his game are coming around.
Aside from a positive plus/minus each year, Gudas recorded 17 points in his rookie campaign, and another 19 in his sophomore season, becoming a key part of the Admirals' defense that helped win 28 straight games to end the 2011-2012 regular season and march on to win the Calder Cup championship.
"He is definitely somebody when you get on the bench everyday," Cooper said. "You're glad he's on your bench and not the other team's."
Even after watching the progression for multiple years, Cooper knows the 22-year-old will only continue to get better.
"The part that eventually is going to get him to the NHL is his stick skills," he said. "His shot has gotten better, his stickhandling and his ability to make plays is getting better all the time. When he starts taking that to the next level, he's going to be a 'can't-miss.'"
The game seems to flow through Gudas' veins, but is definitely written all over his mug, whether its his father's looks or the battle scars that checker his lip and chin.
As Gudas strokes his face, he grins.
"A few hockey memories," he said.
Pictured: Crunch defenseman Radko Gudas fires the puck on goal against the Bears at the Onondaga County War Memorial Oct. 13.