Killorn Concentrating on Consistency
Submitted by jghoughtaling on November 2, 2012 - 17:00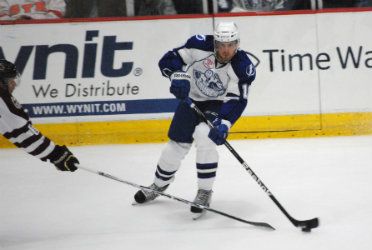 By Jeremy Houghtaling

Alex Killorn certainly doesn't seem like a rookie.
With nearly as many playoff games as regular season, the 6-foot-1, 201-pounder is quietly piling up points like a veteran.
Registering six points over his first seven games in his first full professional season with the Syracuse Crunch, Killorn is improving on the impressive pace he set during his first taste of pro hockey last spring.
"When he came in, the game slowed down for him right away, within a couple of games," Crunch head coach Jon Cooper said. "You look at some of our other rookies…It took those guys a little bit more time."
After making a run with Harvard University to the ECAC finals last year, the Tampa Bay Lightning's 2007 third-rounder jumped ship to join the Norfolk Admirals of the American Hockey League. He collected six points in his first 10 games.
"Everybody was doing well, me included," Killorn said of his final games with the Crimson. "I was chipping in offensively, and I think I took that confidence from the college game and applied it to the pro game."
With the Admirals in the middle of their quest for the Calder Cup, the Halifax-native put up 12 points in 17 playoff games, including an assist in the clinching game of the finals.
"We had our success at Harvard, but nothing like I had seen in Norfolk," Killorn said. "It seemed like there was a certain swagger or confidence that we felt we were going to win the game before it started. The chemistry in the room was unbelievable."
Killorn attributes his ability to step in and contribute immediately to staying for a fourth year at Harvard, something he thought about opting out of.
"I didn't feel like I was ready to be a good enough pro player at that point in my life," Killorn said. "I thought one more year would be extremely beneficial and I'd be able to step in more prepared."
Killorn finished his senior season with 46 points in 34 games and first-team honors in the ECAC, Ivy League and NCAA East.
While the final year gave him confidence, the previous three rounded out his game.
"I came in as a skinnier, slender kid and I put on some muscle," Killorn said. "I also learned how to play more defensively, which helped me out at this level. I knew coming in to Harvard I had some learning to do."
In his first year away from the classroom, the 23-year-old still has plenty to learn.
After a hat trick in the final preseason game this year, he went six games without finding the back of the net before he broke through for a pair of goals 30 seconds apart Sunday.
"I've been getting good chances, and I've been lucky enough that when I capitalize, I capitalize in bunches," he said. "I'll be happy to keep doing that as long as they come a little bit more often."
For Cooper, he seeks consistency out of all of his players, and there is always a big question to ask about players fresh out of college.
"The question now with him is can he sustain it?" Cooper said. "He's only played a handful of pro games and so far he's proven he can."
Pictured: Crunch center Alex Killorn looks to make a pass against the Bears at the Onondaga County War Memorial Oct. 13.