Phantoms stun Crunch with 4-3 overtime win
Submitted by jghoughtaling on October 28, 2012 - 19:57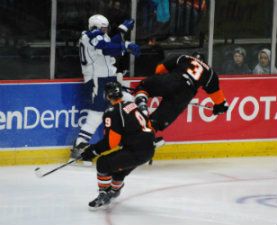 By Jeremy Houghtaling

The game turned quickly.
Having shut down eight previous Adirondack Phantom power plays, the Syracuse Crunch clung to a 3-2 lead with less than two minutes remaining.
Brayden Schenn capitalized on a 6-on-3 with 1:02 left in regulation with Cal Heeter pulled from the Phantoms' net to tie the game and Brandon Manning found the back of the net on a 5-on-3 14 seconds into overtime as Adirondack stunned Syracuse with a 4-3 win at the Onondaga County War Memorial Sunday afternoon.
"You can only give a team like that, with so much skill, so many 5-on-3's," Crunch forward Alex Killorn said. "After a while, you know they're going to capitalize on it."
Syracuse was guilty of 13 minor penalties, including four in the final three minutes. Richard Panik was called for a double-minor after getting tied up with Adirondack defenseman Danny Syvret, JT Wyman went to the box for putting the puck over the glass, and the team was also whistled for too many men on the ice.
"It's tough to keep killing 5-on-3's," Crunch center Tyler Johnson said. "You can't always do it. Good for them, they capitalized on it."
The late Adirondack surge spoiled Syracuse's turnaround on special teams. After going 0-for-7 Saturday, the Crunch converted on two of its seven opportunities with the man-advantage on Sunday.
Brett Connolly opened the scoring on Syracuse's first power play midway through the first, with the assist going to Cory Conacher.
After the Phantoms' Tye McGinn scored twice in the second period, Killorn responded with a pair of goals 30 seconds apart -- one during a 4-on-4 and another during a 4-on-3.
"I was able to fake a shot and the defenseman got caught," Killorn said of his first goal. "I went around and tried to make a pass and it went off (Ondrej) Palat's stick. I was just at the right place at the right time, it popped onto my stick and I put it on net."
While Palat was credited with an assist on Killorn's first tally of the season, Matt Taormina collected an assist on the second.
"I saw high glove and the goalie didn't see much because Panik was right there," Killorn said. "He was a great screen. Most of that goal is due to Panik being in front of the net."
After registering a hat trick in the Crunch's final preseason game, Killorn was happy to finally find the back of the net in the regular season.
"I try to not get frustrated," he said. "I knew the chances were coming and it was only a matter of time. I was happy when that first one went in to get the monkey off my back."
Heeter finished with 32 saves, while Crunch netminder Riku Helenius turned away 25 shots. The teams meet again in Glens Falls Friday.
"(The penalties) bit us in the butt at the end," Johnson said. "It was a tough game and not what we wanted to do, but the effort was there."
Top: Crunch forward
Pierre-Cedric Labrie
levels Phantoms defenseman Marc-Andre Bourdon in front of Rob Bordson at the Onondaga County War Memorial Sunday.
Above: Crunch forward Danick Gauthier and Phantoms defenseman Danny Syvret collide at the Onondaga County War Memorial Sunday.