Initially thought to have sustained a cracked sternum, Brett Connolly [10] found out earlier this week that it was just a contusion.
While the injury made it hurt for him to breathe this week, the Syracuse Crunch forward was determined to play against the Hamilton Bulldogs at the Onondaga County War Memorial Friday.
"Right now, it's just pain tolerance," Connolly said. "It's going to take a lot to keep me out of the lineup."
Connolly played through the pain, registering a pair of points - including a 5-on-3 power play goal seven minutes into the game that stood up as the game-winner - as the Crunch beat the Bulldogs, 5-1.
"It was nice to get a couple tonight," Connolly said of the team's two power play tallies. "Again, that's something we've been working on to get better, and it was nice to see that one go in."
Four more Syracuse players had multiple point nights. Ondrej Palat [11] and Alex Killorn [12] each finished with a goal and an assist, while Tyler Johnson [13] and Mark Barberio [14] each recorded a pair of helpers.
The Crunch came out flying from the first shift, with Palat finding the back of the net 26 seconds into the game.
Less than seven minutes after Connolly's power play goal, Matt Taormina [15] scored his own with the man-advantage to give Syracuse a 3-0 lead.
Aaron Palushaj netted the Bulldogs' lone goal in the closing seconds of the first, and both teams were held scoreless throughout the second.
"It's always good if you keep the other team to one goal," Syracuse goalie Riku Helenius [16] said. "It gives your team a good chance to win…Our guys made it a lot easier for me."
Alex Killorn and Pierre-Cedric Labrie [17] added insurance to the Crunch lead in the third, each scoring their fourth goal of the season.
While Syracuse piled a season-high 42 shots on Hamilton netminder Cedrick Desjardins [18], Helenius had long stretches without having to make a save.
The Crunch goalie finished with 19 saves for his sixth win of the season.
"It's mentally a little tough, you have to keep your focus on the right things and concentrate for the next shot," Helenius said. "The guys played so well today, we didn't give them too much."
The Crunch (14-5-1-1), playing its fifth three-in-three in nine weeks, is looking to rebound after losing two games last weekend. The Eastern Conference leaders travel to Adirondack Saturday and swing through Bridgeport Sunday.
"We had taken a few steps back lately and…we wanted to get off to good start, and that's what we did," Connolly said. "It's a good building block going into tomorrow."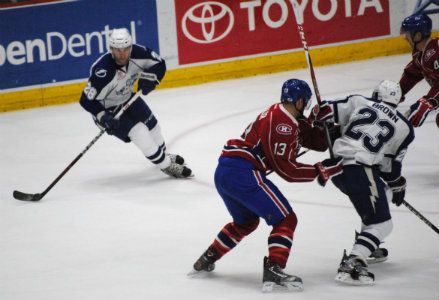 Top: Crunch players celebrate a power play goal by Matt Taormina at the Onondaga County War Memorial Friday. Syracuse beat Hamilton 5-1.
Above: Crunch forward Brett Connolly, left, looks to pass against the Bulldogs at the Onondaga County War Memorial Friday.