Features
Articles that are feature stories.
Submitted by chad on December 15, 2012 - 14:13
By Peter Pupello, TampaBayLightning.com
Please excuse the United States' neighbor to the north if the temperatures in Canada this time of year begin to feel a little bit warmer.
At least in and around the parts of Rouyn-Noranda, that is.
The city is home to the Rouyn-Noranda Huskies of the Quebec Major Junior Hockey League, whom since the arrival of Tampa Bay Lightning prospect Nikita Kucherov, have seemed to catch fire.
Since Kucherov joined the Huskies in a trade from the Quebec Remparts on November 21, the club has gone on to win seven of its previous nine games, including three straight.
Prior to the trade, Rouyn-Noranda had dropped five consecutive games, including two in a row by a score of 8-3. Kucherov, meanwhile, has elevated his game and has seemed to fit right in to his new surroundings as he emerges as a great talent at the Canadian junior level.
For the rest of this story, see TampaBayLightning.com.
Submitted by chad on December 15, 2012 - 14:08
By Damian Cristodero, Tampa Bay Times
University of Minnesota goalie Adam Wilcox claims he can solve a Rubik's Cube puzzle in "about a minute."
Yeah, right, said laughing Gophers goaltenders coach Justin Johnson. "Maybe if he was doing just one side."
No, really, Wilcox said, "It's just kind of learning patterns. You have to take it step by step."
And that is exactly how Wilcox has turned himself into one of the nation's top freshman goalies and one of the Lightning's most interesting and promising prospects.
For the rest of this story, see the Tampa Bay Times.
Submitted by chad on December 10, 2012 - 16:37
This week we continue our Prospect of the Week award, an honor (virtually) given to one Tampa Bay Lightning prospect for their recent contributions on and off the ice.
This week's winner said good-bye to his club team with a dramatic exit.
The Prospect of the Week for December 10 is … Nikita Kucherov, RW, Rouyn-Noranda (QMJHL – Canada)
A lot is expected of Russia this month at the upcoming World Junior Championships. The city of Ufa, Russia, is hosting the tournament, and the Russians will not settle for anything less than a gold medal.
With the NHL mired in a lockout, a lot of attention will be on the tournament from North America, too, especially in hockey-rabid Canada.
It's a big deal.
Submitted by jghoughtaling on December 9, 2012 - 11:04
After only a handful of games, Jon Cooper saw the signs of what was to come from Vladislav Namestnikov.
The Syracuse Crunch head coach watched the same progression in many of the rookies on the Calder Cup-winning Norfolk Admirals last year, whether they were Tampa Bay Lightning picks like Ondrej Palat and Richard Panik, or undrafted free agents like Tyler Johnson and Cory Conacher.
"Those guys that came in, felt out the league, learned it and after Christmas, took off," Cooper said. "That's where Vladdy would have been this year, but we're just going to have to wait a few months for that to happen."
Submitted by jghoughtaling on December 5, 2012 - 17:19
As
Kirill Gotovets
describes his style, he makes it clear that defense comes first. Despite recording 15 points over his first two seasons at Cornell University, the defenseman isn't worried about not finding his name on the scoresheet during the first nine games of his junior year. His game still evolving, Gotovets knows stats aren't everything. "I think I still play the same style, just a little bit unlucky with the points," he said. "I don't think it matters how many points I get, I just worry about how I play and how the team plays."
Submitted by chad on December 3, 2012 - 17:48
This week we continue our Prospect of the Week award, an honor (virtually) given to one Tampa Bay Lightning prospect for their recent contributions on and off the ice.
This week's winner made people remove their chapeaus and toss them onto a sheet of frozen water to delay a sporting match.
The Prospect of the Week for December 3 is … Cedric Paquette, center, Blainville-Boisbriand (QMJHL – Canada)
Paquette started the year off on the wrong foot when he would frequently retaliate to opposing players' efforts to get under his skin. The final straw for the coaching staff was when the 6-1, 200-pound center took a bad penalty away from the play in the closing minutes of a tie game, resulting in an Armada loss. The team suspended Paquette for one game and removed his alternate captain's letter from his jersey.
Submitted by jghoughtaling on December 1, 2012 - 12:54
When Syracuse Crunch coach Jon Cooper looked at his defense at the beginning of the season, he saw seven players and a question mark.
Dmitry Korobov, set to play his first season in North America, was up against more than smaller ice surfaces and more physical play. The Belarusian had to deal with a language barrier, and due to the ongoing lockout, NHL-level competition – not only from the opposition, but to crack the Crunch lineup.
"We didn't know what Dmitry was, and when we're fully healthy with the eight guys, I don't know if you can sit here and say who's one through eight," Cooper said. "We have a bunch of ones in their own way."
Submitted by pete on November 21, 2012 - 21:03
We're now almost two months deep into the second NHL lockout in less than a decade. As difficult as it is to remember, though, hockey goes on. It goes on in small junior rinks in Canada and on campuses throughout the U.S. It goes on in the sporting halls of Sweden and Russia. And, it goes on in Syracuse, New York, where players on the cusp of making the highest level of hockey in the world patiently await the mere chance to make their case to play in the NHL. For those players, and in spite the cynical greed of the NHL's business wing, Bolt Prospects presents its 2012-2013 Preliminary Rankings.
We delayed the release of the rankings a few weeks when optimism ran high that hockey would be back after Thanksgiving, believing that perhaps an NHL training camp was in the cards for some of our prospects. But with the breakdown of talks between the commissioner and the NHLPA, it looks like a Lightning camp is far from imminent. So, we press forward, in spite of the setback.
Submitted by jghoughtaling on November 20, 2012 - 08:12
It was one smooth motion that brought the crowd to its feet.
On the doorstep of the Adirondack Phantoms crease, Richard Panik snatched the puck out of the air, set it down, and tapped the puck into the net, providing the Syracuse Crunch with a 5-0 second period lead at the Onondaga County War Memorial Saturday.
The effortless looking play was all instinct for Panik.
"The game is going so quick and fast, so you don't have time to think about anything," he said.
Submitted by jghoughtaling on November 14, 2012 - 18:01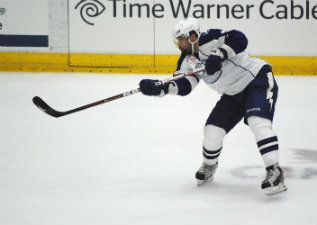 By Jeremy Houghtaling

Growing up, Radko Gudas modeled his game after two players.
The first, his father Leo, represented his country in multiple world championships and won the bronze medal for Czechoslovakia in the 1992 Olympics.
"I learned how he played, and that's how I play," Gudas said. "He was a really hard hitter, he had a good shot – a really good defenseman."
North American hockey fans are more familiar with the second player – longtime NHLer Scott Stevens, a fearsome defenseman with the most penalty minutes of any player enshrined in the Hall of Fame.